The Movie
When Leonard wakes to find himself tied to a horse, a noose around his neck, dead bodies on all sides, and a gash on his head that prevents him from remembering any of it, he sets off to find help for the unconscious survivors. His journey won't be easy, as he meets a new kid in town and a sinister villain who both have pasts that may put Leonard in peril. One thing is certain, though: before it's over, these characters and more will all play a part when The Mustachioed Bandit Meets His End!
Shot on location in Utah and produced on a legendary $15k budget, The Mustachioed Bandit Meets His End is a complex mix of Western, Drama, Action, and Mystery. It can't be missed by serious Western buffs who love the pace and feel of 1960s Spaghetti Westerns.
Click here to download the Electronic Press Kit. This talking picture on DVD is 71 minutes long, NTSC with Closed Captions and numerous subtitle languages. Copies are not currently for sale, but they are availble by request. Distribution is avaiable in many markets, so inquire if you are curious. NTSC or PAL Digibetas created upon request.
The Players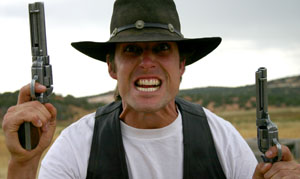 DOUG SWIM, "Leonard"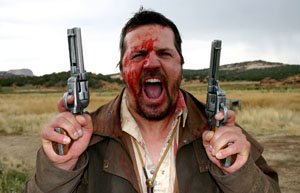 CAZIMIR MILOSTAN, "George"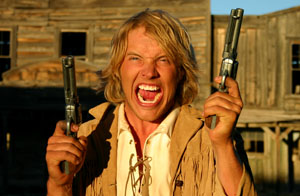 ORY MCCORMICK, "Rich"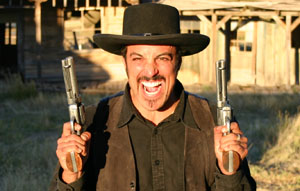 MATTEO RIBAUDO, "Bill"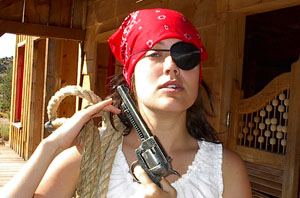 MEGAN BOONE, "Kate"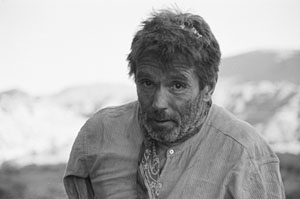 KENNETH DAY, "Old Man With No Arms"
The Photos
Check here for the full photo library, or click a random image below to jump right to it.
255
The News
March 12, 2008: Official Trailer
You just scrolled right past it. This launch coincides with the release of the Mustachioed Bandit - for rent - at LA-based Cinefile Video! More details on Paul's blog.
Jan. 24, 2008: DVDs Released!
After a false alarm due to a printing error, the discs are finally here. Now it's time to mail them out to the masses...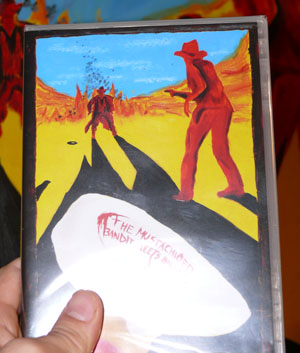 Sept. 3, 2007: Off to the Presses
It's in the mail. After a grueling DVD authoring process, a copy of the finished disc and the final artwork has been sent to the East Coast for replication.
Feb. 3, 2007: Theatrical Premier
The Cast & Crew screening was a success, with some 200+ people in attendance, traveling from as far away as Missouri. See it from dueling perspectives: my dad's and my uncle's. Now the push for retail packaging begins.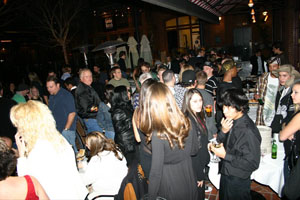 Aug. 26, 2006: Set Fire
The buildings in which we slept (and filmed) during production have burnt down! http://www.ksl.com/?nid=148&sid=449390
The Makers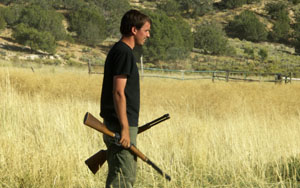 PAUL BLAIR, Director, etc.
Upon moving to the Los Angeles area, Paul began a year of Western research, wrote this script, and began enlisting help. Paul is currently employed as Director of New Technology at SDI Media, and is pursuing multiple film projects. (Personal site: superkeen.com, Blog for this film: banditwestern.com/blog)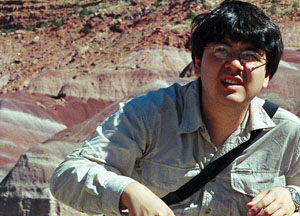 JOHN DION, Coproducer
Creative collaborator over the duration of the project, John assisted in everything from script revisions and casting to assistant directing. John is currently attending USC Film School to further hone his craft.

OAKLEY ANDERSON-MOORE, Art Director
Early on in preproduction, Oakley began assembling ideas for the look of the film, and her work can be seen in the costumes and sets in the finished work. (Not to mention that she lent herself as an actress as well!) Oakley is currently baristaing part-time as she assembles her upcoming documentary.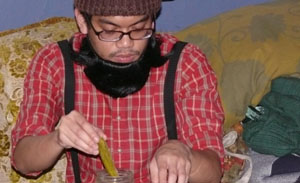 MARK BERTULDO, Composer
The single largest contributor during postproduction, Mark worked tireless to write the original score, and also conducted the film's choir and horn section. Mark is currently employed a Quixote Studios and is further pursuing music.